CoughDrop is mainly used as a speech-generating tool for struggling communicators. It's important that the speech output work correctly in order for the app to be useful. However, sometimes there are system issues that prevent CoughDrop from generating speech as it should. If you can't hear the sound, or audio isn't working, please try to steps below.
Speech Output
CoughDrop needs to be in "Speak Mode" in order to generate speech. When in edit mode or exploring mode, loading a board and hitting buttons will not generate speech, so the first thing to check is that you are in Speak Mode. When in Speak Mode you should see a header at the top with a home icon, a sentence window, and a few additional buttons.
Vocalization Window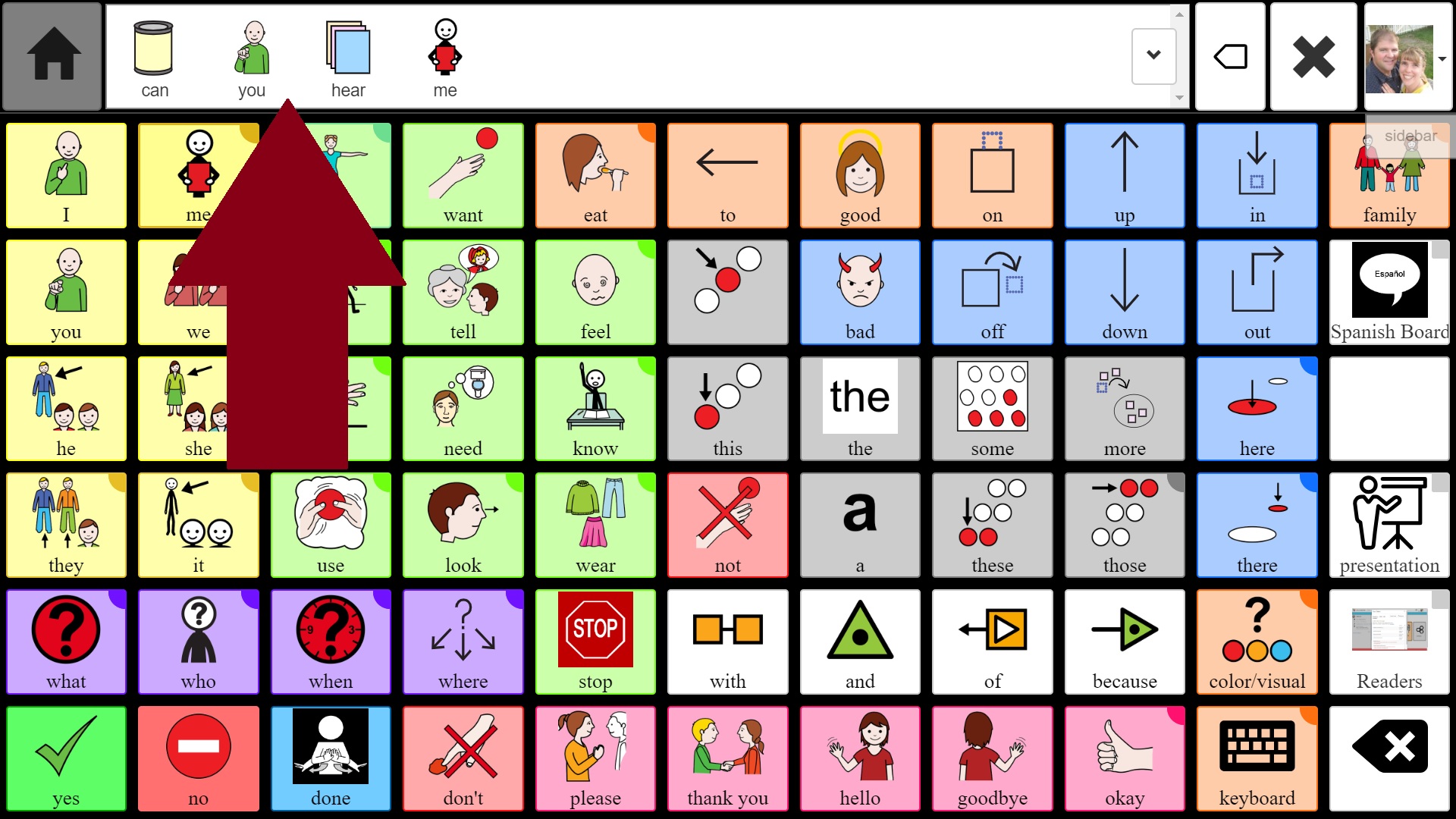 Another reason you might not hear speech output in CoughDrop is that some users in their preferences have disabled button-level speaking. The preferences may be set NOT to speak individual buttons, but only when the vocalization box is tapped.
You can make sure this isn't the problem by hitting a few buttons while in Speak Mode to generate a sentence in the vocalization window. When you hit the vocalization window, it should speak all the buttons that have been added there.
Checking for Volume
If you're still are not hearing any sound, please make sure to check your volume settings. Sometimes the volume is turned down very low, or a Bluetooth speaker or headphones are connected, or something is plugged into the headphone jack on your device. Usually, if you try making sounds in some other application you can confirm that sound is being generated correctly.
Checking System Memory
It's also worth checking your system memory. On some devices, if there is not enough free memory, then speech output will not work correctly.
Checking for a Voice
You can also check the user's preferences to make sure they have appropriate voice settings. Sometimes certain voices have issues, so it's worth trying another voice if there are choices. Also, the voice pitch, rate, and volume settings should all be at reasonable values or the voice may not work (the default for all three is 1.0). Try hitting "Test Voice" and see if you can get voice output at all with different settings.
Changing the Selected Voice
Sometimes the default voice on a device does not work with CoughDrop's text to speak function. You can change the voice selected on the device which may help resolve issues with sound.
To adjust your chosen voice open the drop-down under your username on the dashboard of your CoughDrop account and hit 'preferences.'
Scroll down to the 'device preferences' section and look for the 'voice' heading. If you have purchased a CoughDrop account you will have access to any voices available on your device and also the premium voices available to account holders. Select the voice you like and test it to be sure it will work.
**PLEASE NOTE** Some iOS and Kindle devices do not allow the text-to-speak function to perform as it should with system voices. If you cannot find a voice which vocalizes please scroll to the bottom of the voice list and select SYSTEM DEFAULT VOICE. This voice behaves in a different way from other system voices and will generally work even when others don't.
You can also test the premium voices which will always work on iOS devices. These voices are available to paid CoughDrop users. Please contact us if you cannot find a functioning voice during your free trial so we can assist you.
Troubleshooting Tool
If you're still not hearing any speech output, then we can try troubleshooting to see if we can track down exactly where the problem is. On any CoughDrop page, hit the "?" icon at the top right of the page.
You'll see a support form pop up. We're not going to fill it out quite yet, first hit the "troubleshooting" link.
You'll see a little troubleshooting page load. This tool can be used to test all sorts of functionality in CoughDrop. including speech output. Hit "Check for Supported Functionality" to run the tests.
After a short pause, you'll see a table of results appear. Go the row titled "Speech Synthesis" and see what it says. Occasionally this row will say "Unsupported", so make a note of what it says. Then try hitting the "Test" buttons one by one and see if any of them generate any speech output. Make a note of the results.
Now hit the "Support" link again, and fill out a brief description of the error you're having, including the results of the tests you ran. We'll get back to you and hopefully be able to figure out exactly what's going on.
No Voice on a Kindle
There are some Kindle devices which do not automatically make a text-to-speech voice available for users. In this case, you may need to download a voice option onto your Kindle.

You can do this by going to your Kindle settings page then selecting "Keyboard & Language" and then choosing "text to speak." From there you should see the option to download additional voices so you can load a voice to work on your device.
Some Kindle devices do not have any available voices and cannot speak words and phrases unless a premium voice is selected on the device. Premium voices are not available during the free 2-month trial.

If your Kindle does not have a built-in voice and cannot speak you can reach out to us and we can allow you access to our Kindle Trial account which has a premium voice option. This is a CoughDrop owned account but can be used to verify premium voices will work on your specific device.

Alternately, you can also choose to register for CoughDrop's month to month payment option which would then allow you to access a premium voice on your own account. The cost is $6 per month.