CoughDrop allows you to make your boards publicly visible so anyone can find, copy and modify them. In addition, it may make sense for your to share your board outside of CoughDrop via email or social networks. This is a great way to help others find and benefit from the boards you have created.
Make sure your board is public first. When editing hit "More" then select "Edit Details" and make sure that "Anyone can see this board" is checked. Save the board. Then you can copy the link address for your board and share it with others.
Check for sharing
First, make sure the board is public. Only public boards can be shared. If you see a "Share" button then the board is public, but if you don't see it then the board is private.
Edit the board to make it public
If the board is not public, you can hit "Edit Board" to enter edit mode for making it public.
Edit details to set as public
Hit the "More" button at the top and select "Edit Details".
Set board to public
Make sure the "Anyone can see this board" box is checked, and then hit "Close".
Save changes
Then hit "Save" to finish editing the board.
Share with an un-connected CoughDrop user
If you want to share your speech board with a CoughDrop user who is not connected to your account as a supporter, you can do that by opening the board to the board actions page and then hitting the "share" button.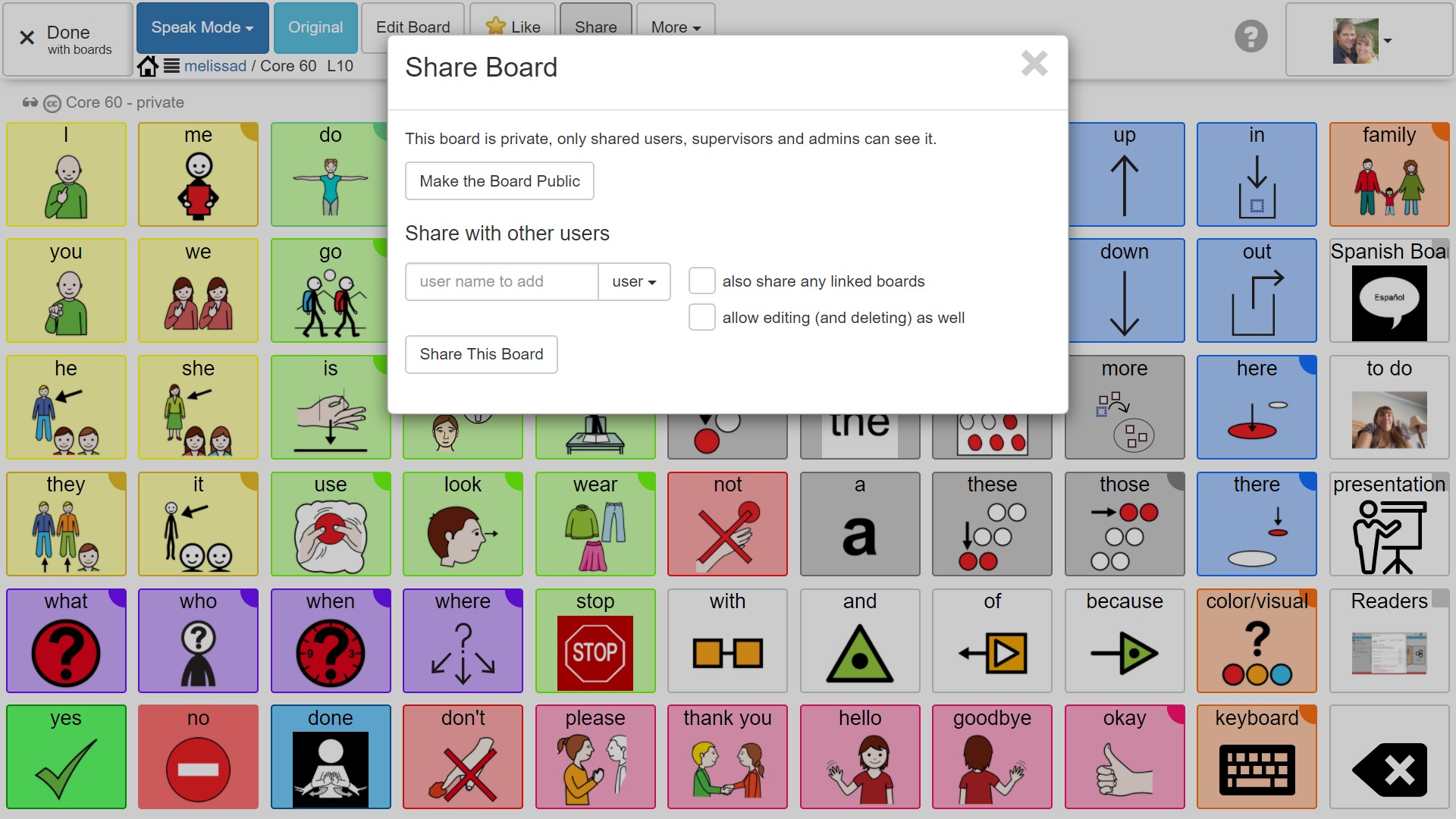 Enter the CoughDrop username for the account with which you would like to share the board. You MUST use the account username, not an email or other name linked to the account.
Check the boxes as desired to share the full board set of connected boards or to give edit permission for the shared board. Then hit "share this board."
The shared board will be located in the account page of the account to which you shared the board under the heading "shared with me."